---
Scroll down to read the latest news
---

11th December 2012
No News Is Good News Right?
First of all many apologies for the lack of updates over the last 18 months, my music career is currently taking a backseat to my guitar business, but new material is being composed all the time. When the time is right, news on my next project will be announced here.
In the meantime if you are in the market for a unique world class guitar then please have a look at the Byrd Guitars website.
17th July 2011
Extended Sound Clips of 2 tracks from 'Beyond The Pillars'
Head over to the sound clips for extended samples of the tracks 'Eye Of The Storm' and 'Stranger In The Night'.
'Beyond The Pillars' now on iTunes
Buy online now at http://itunes.apple.com/album/beyond-the-pillars/id457087734
New Reviews
Lots more positive press for 'Beyond The Pillars' at:
New Interviews
Read them now at:
15th July 2011
'Beyond The Pillars' Out Today
New album out today on Lion Music, its on Amazon, CDBaby, HMV, play etc so search it out or order online from the label Lion Music.
'Beyond The Pillars' 30 second sound samples now online
Head on over to the mp3 page to hear 30 second samples of all tracks from Beyond The Pillars.
7th July 2011
First 'Beyond The Pillars' Review Is In
90% @ http://virtuosityone.com/2011/06/28/james-byrds-atlantis-rising-beyond-the-pillars/
'Going Home' Solo Tab!
You asked for it 1 pdf file and 1 midi sequence file to download.
16th June 2011
"JAMES BYRD'S ATLANTIS RISING - BEYOND THE PILLARS" RELEASED JULY 15TH 2011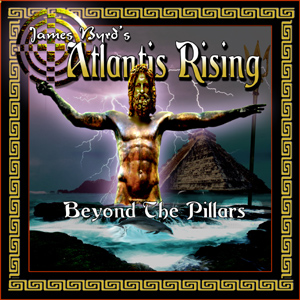 Yes you read it right, a new album with a twist is released on Lion Music on 15th July 2011. For all the details click on the discography page.
Pre-orders now being taken at the Lion Music website promo page - http://www.lionmusic.com/cd/beyondthepillars.htm
19th July 2010
Still So Many Lives Away - Uli Jon Roth cover
22nd April 2010
The World Anthem - Mahogany Rush cover
7th July 2009
Own A Piece Of Metal History - Byrd's Fifth Angel Gibson Flying V For Sale - SOLD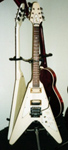 This Alpine white 1980 Gibson Flying V is the Flying V owned by James Byrd and heard on the classic album "Fifth Angel –Fifth Angel" is for sale. This guitar was used to record all of the lead guitar tracks on Fifth Angel's debut album, after which it was retired and 24 years later, it remains just as it was put away, even down to the original strings.
This historic instrument is in outstanding condition; It's Original Alpine White finish has aged to a rich dark manaila/butter colour, as have it circa 1983 PAF pickups. It features a period correct vintage Gibson "Supertune Vibrola", nickel Schaller tuners, two cream colored vintage DiMarzio PAF humbucking pickups, dual Bartolini pre-amps hidden under the pickguard, and a very slightly scalloped rosewood fret board. The guitar comes with the original hard case which is well worn and with personal stickers and name stencil intact. A letter of authenticity will also be provided by Byrd.
If you are interested in buying this guitar or want more information on this piece of rock metal history please email.
New YouTube video
Get some gas from the latest guitar porn offering below - visit www.byrdguitars.com for the full story.
4th November 2008
Super Avianti's ready for final assembly
Bypass the normal 6+ month wait for a Byrd Guitars Super Avianti as Byrd has 4 instruments awaiting final assembly (by himself) which will be ready in time for Christmas. To find out whats available goto www.byrdguitars.com
27th June 2008
Lyrics for 'Atlantis Rising' now online
After a long wait the lyrics for Atlantis Rising are now online in the lyrics section. The remaining lyrics for "Crimes Of Virtuosity" and "The Apocalypse Chime" will be added soon.
James Byrd's Atlantis Rising & The Apocalypse Chime album sampler mp3's now online
Located in the soundclips section you will find album sampler mp3's for "Atlantis Rising" and "The Apocalypse Chime". Samplers for other albums will appear shortly (news will be posted here). We realise that many newer fans have not had the chance to check out the Shrapnel era albums due to them being long out of print, so hopefully this will go some way to feeding your hunger.
7th February 2008
Byrd interview at Guitar Messenger
The great new guitar website Guitar Messenger has just posted an archived interview with James Byrd. This interview originally featured in Berklee College of Music's "The Groove" magazine. Thanks to Ivan Chopik for making it available on the web. Click the image below to go direct to the interview.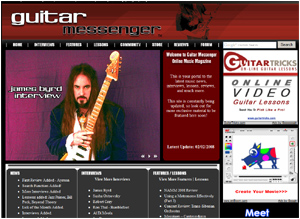 15th November 2007
"Avianti Etudes" - new video available
You have waited for it, and now it's here. A never before heard composition entitled "Avianti Etudes" which showcases the Byrd Guitars Super Avianti - enjoy and we look forward to your comments in the fan forum. View it below.


DOWNLOAD THIS VIDEO
Format - wmv | File size - 34.5mb
5th June 2007
Archived Press Clippings
We have just added a load of press clippings from printed press over the years with rare articles from the 1980's and 1990's including rare scans from Fifth Angel days.
Berklee Music School interviews Byrd
James was recently interview by the Berklee Music School's alumni monthly newsletter "The Groove", click the image below to view the full size article.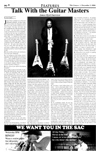 [510kb]

6th October 2006
New Interview Online
Check out the very latest interview from Byrd at the French website www.auxportesdumetal.com in which Byrd discusses what he's been upto since "Anthem", the state of the current music scene as well why he never tours plus much more.
Expect more news shortly...
2nd July 2006
New Interview Online at Baroque & Roll.com
The neo-classical website www.baroqueandroll.com have just posted a new interview with Byrd. The interview covers Byrd Guitars, the making on Anthem and when to expect new material as well as what influenced Byrd's vibrato and much more. To enter the main site click here, to skip direct to the interview click here.
18th May 2006
Jeez Has It Really Been This Long?
Many apologies for the lack of activity around here, in truth there is not a whole great deal to report on the music side of things. Byrd is currently busy with Byrd Guitars but he is working on new material and is working on the angle he wishes to pursue with his next project. In the meantime check out Byrd's MySpace site where you can hear the ace version of Frank Marino's 'The World Anthem' and also get in touch with other Byrd-ites worldwide.
26th December 2005
Add Yourself To Our Fan Map
To get an idea how spread out worldwide Byrd fans are we have set up a Frappr! group map, simply click this link and enter your location along with name and any message for other Byrd fans.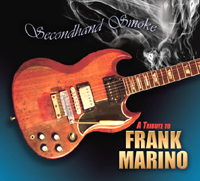 9th December 2005
Byrd Contributes to Frank Marino Tribute - Out Now!
Readers who are also members of Frank Marino's message board may have been aware that a performance on a tribute album arranged by the official Frank Marino website was in the can. Well the album entitled Secondhand Smoke - a Tribute To Frank Marino is now available exclusively online (for the time being) through Wildmess Records.
Byrd contributes an emotionally charged version of the ultimate Frank Marino & Mahogany Rush instrumental classic, "The World Anthem". This rousing instrumental is a must own for all fans of James's guitar work.
The tribute album also has guest appearances from other such luminaries as George Lynch (Dokken / Lynch Mob), John Norum (Europe / solo), Audley Freed (Black Crowes / Cry Of Love) and Ronnie Montrose (Montrose) amongst many others. The price of the album is $15 (inc a small shipping fee) for the USA and Canada, and the same $15 plus a slightly higher shipping for Europe and the rest of the world. Paypal is accepted amongst other formats so what are you waiting for, order your copy today!
Byrd comments on Frank Marino and The World Anthem
"World Anthem" was a pivotal point in my personal development as a young guitarist. I lived and breathed Frank Marino and Mahogany Rush when I was 16
years old. World Anthem marked the beginning of my recognition that classical themes, and screaming guitar, could be extremely powerful sounding. It moved me from being a more blues based guitarist, to being a guitarist interested in classical music as a form to go further with. I consider the track to be prototypical of the entire Neoclassical movement. It lead me to learning so much more about music, I can honestly say that I probably wouldn't be the same
musician had I never heard it.

When I decided to do the track, I had a choice; I could either do it exactly the same way it was originally done, or I could treat it as a theme for my own expansion. I chose to do the latter because to me, the most flattering "tribute" I could do, would be to be inspired rather than to attempt to duplicate
something. I've always felt that way about so-called "tribute" tracks; I just see no reason to produce a carbon copy of something that supposedly inspired me.
As a result, to date, I've only performed tribute tracks that I really wanted to do for artistic reasons and real respect for the music in question. "World
Anthem" is so profound to me, and resonated with my musical personality so much, I wish I had written it. I can't say anything better about any piece of music than that.


3rd November 2005
Discography Page Overhaul
Additional information has been added to the discography page for each release with historical and musical facts. Look out soon for some archived press clippings with some dating back to the Fifth Angel days.

28th October 2005
Crimes Of Virtuosity Review Round Up
Lots of reviews of the special bonus tracks edition of Crimes Of Virtuosity added, to check them out click here.
Byrd Guitars
Have you checked out the Byrd Guitars website yet? Visit it now here.

23rd August 2005
Exclusive Interview at Dinosaur Rock Guitar
Byrd gave http://www.dinosaurrockguitar.com an exclusive interview to discuss indepth Byrd Guitars. The interview is first in this sites new Luthier Interview series. As well as giving an excellent background to the Super Avianti guitar it also has lots of Byrd's views on the guitar itself.

17th August 2005
Indepth Interview and Review at Strike Up The Bands
The excellent website www.strikeupthebands.net have made Byrd their main artist with a frontpage intro to a new interview and glowing review of the Crimes Of Virtuosity re-release. To check it all click here.
In related news COV has been gaining superb reviews across the globe so look out for links coming in the next few days.
We Need Your Help!
Any fans willing to lend a hand promoting the music of Byrd can help us by mentioning the COV re-release at any relevant forums you may visit (but please no spamming) as well as posting your reviews of the album (and indeed other Byrd releases) at online music retailers such as Amazon, CD Universe etc. Your help is appreciated by James and the jamesbyrd.com webteam.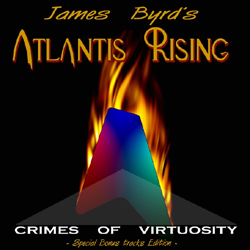 9th July 2005
Crimes Of Virtuosity Special Edition - Out Now
Those looking for a good place in the US to buy the Crimes Of Virtuosity special edition be sure to check out www.Guitar9.com for secure service and quick delivery, fans in Europe check out www.loudmetal.com which is part of Lion Music for the best prices and service.
Crimes Of Virtuosity Special Edition - Reviews
Reviews of the COV special edition are now starting to appear online, below is a brief summary of a few:
Indepth Interview
John Kindred at www.hardrockhaven.net has recently carried out this indepth interview with Byrd. Click here to access the interview.
June 16th 2005
Crimes Of Virtuosity Special Edition - Release Information.
Lion Music will be releasing a special edition of Crimes Of Virtuosity on June 22nd. The album sees all new artwork by James as well as the addition of 2 bonus tracks previously unavailable on the original European release. The bonus tracks are "Shot Down In Flames", one of the hardest driving and politically biting pieces of heavy metal ever recorded by the Atlantis Rising band and a symphonic performance recorded just before the COV sessions in the same studio: "Bolero - No. 46 Mvt. 3". Known in the neo-classical rumour mill as "Byrd's Bolero", this melding of technical electric guitar virtuosity, with symphony, predated later similar hybrids by guitarist and long-time friend Yngwie J Malmsteen by more than a year. Always on the cutting edge, Byrd unleashes a soaring blend of neo-romantic Mediterranean melody and dynamics that are unsurpassed for beauty and unique to this day.
Fans that discovered Byrd's music via the Flying Beyond The 9 or Anthem albums can expect a less orchestrated sound (in the symphonic sense) but plenty of Byrd's virtuoso guitar work and the superb vocals of Kendal Torry through tracks that are if anything more socially relevant today than when they were recorded.
Many fans have asked how to get a copy of this album, well now the wait is almost over. We will be providing you with direct URL's to online stores that are stocking the album when the release date hits.
Crimes Of Virtuosity Jukebox at www.strikeupthebands.net
Those of you that want to check out tracks from Crimes Of Virtuosity be sure to surf on over to www.strikeupthebands.net and head to the Jukebox section (June 2005), at the bottom of the page click on the new COV cover (see above for what to look for) and you will get the chance to listen to samples of all tracks as well as see some cool flash animation.
New Server / Soundclips Update
The last few days have seen us move the website over to a new server so if you tried to view the site and it was down, or the jamesbyrd.com URL led to the byrd guitars website then now you know why.
We have also just changed the tracks available for download on the soundclips page, the new additionas are "Thank You" from Anthem, and "W.T.O (We Took Over)" from Flying Beyond The 9 - both in 192kbps sound quality - enjoy.
More news and reviews of COV Special Edition to follow soon.
April 16th 2005
The Byrd Super Avianti ® is finally available: CLICK HERE
"Far more than just another "signature guitar".
After 7 years of development, and the approval and issuance of four patents by the United States Patent and Trademark Office, Byrd Super Avianti ® guitars are finally in production in the USA and available to the public. The guitars are being made in James Byrd's home state of Washington, and he is intimately involved in the production.
"This probably would have happened sooner" says guitarist/recording artist/Inventor James Byrd "but for almost two years I was delayed by considering an offer from a very major producer of guitars in South Korea. For legal reasons, I'm not going to name them, but believe me, their products are in every music store in the country. After two years of trying to help them trying to get the guitars right, I ended up telling them to destroy the instruments they had made after it became clear to me that although they can produce guitars, and do so very inexpensively, they could not produce my guitar to my specification; they kept asking me to change or eliminate the unique features and quality materials which make my guitars special (like my unique precision inlayed Acrylite pickguard assembly and hand selected figured woods for example).
I decided it just wasn't worth it to me to put my name on something that was made in the same way as about a dozen other major brand name guitars on the very same assembly lines, after I put so much time into creating something I believe is so much nicer. It also came to pain my conscience to see so many guitars made in that factory that people are lead to believe are "Made in USA" when they're not. I actually received advice from them to lie about the origins of the product bearing my name. I think that's just appalling to be honest. I have no objection to the idea of making something somewhere else (if the quality is good), but don't lie about it. Apparently lying is not the exception but the rule with respect to guitars but I don't want any part of it. I now have my production right here in Washington State, and I employ highly skilled craftsmen and state of the art CNC (computer numeric cutting) machines to produce componants.
The Super Avianti ® guitar is produced as an entirely American custom made instrument, but is still priced considerably below other boutique and custom shop instruments. Bodies, Necks, pickguards, pickups and wiring, finishing, assembly, everything is made and done here. And I feel really good about doing my part to maintain employment here; the people who work on this product are highly skilled artisans who care as much as I do about quality and who love what they're doing. The precision of computer carved parts is incredible, down to millionths of an inch in terms of controlling tolerances, and all of my exclusive features down to the last hand polished screw, are incorporated into the guitars. And although parts for the guitar are being "produced", it is not an assembly line instrument. Every guitar is made one at a time to order to a personalized customer fit through numerous options, and I am personally involved with the actual production. For example, customers who order instruments with UDC fingerboard scalloping get an instrument I personally performed that operation on, and every guitar is set up and individually tested by me prior to shipping. If you took the neck off one of these guitars, you would see where I put my initials in pencil under the lacquer finish. That's far more than just another "signature" guitar made for a musician by a company; I am the company. It's still very much a hand built instrument, but built with parts that are made using the latest and most accurate technology available. I believe it's the best possible combination of technology, and old-world craft tradition."
Byrd Super Avianti ® guitars can now be seen in detail and ordered online directly from Byrd Musical Instruments via the new web site: Byrd Guitars

January 30th 2005
Soundclips Update
The final track from Son Of Man 'In My Fathers House' is now available to download in the soundclips page. This completes the album so grab it while you can.

January 23rd 2005
Soundclips Update
The smokin' instrumental 'Golgotha/The Right Hand Of Power' can be found in the soundclips room.
December 19th 2004
Soundclips Update & Archive Guitar Shop Magazine Feature
The Teacher/Beatitude has been added to soundclips page.
Also a magazine scan from the archives has been added to the image gallery. Originating from the now sadly defunct Guitar Shop magazine, this two page features focused on Byrd's Son Of Man signal chain and gives a nice insight into how Byrd achieved the tones on that album

December 12th 2004
Out Of The Temple - latest addition to soundclips
One of the webmasters favourite tracks from Son Of Man is the latest addition to the soundclips page.

December 6th 2004
Soundclips Update
Apologies for being a day late (due to ftp problems), but you can now d/l in all its glory Yeshua - Adonai Elohim in the soundclips page.
November 28th 2004
Soundclips Update
Week 4 of our free Son Of Man album download sees the track Ezekiel (Son Of Man) available for download on the soundclips page. Be sure to post your comments on the tracks featured so far on the fan forum.
November 21st 2004
'The World Requiem' now in the soundclips room
Track 3 from Son Of Man is now online on the soundclips page.

November 14th 2004
Soundclips Update
This weeks selection is Adam, the second track from Son Of Man - check back next week for the next instalment.

November 9th 2004
Begining of Son Of Man free downloads in the soundclips room
Our technical glitch has been overcome and the first complete track from Son Of Man is now available to download from the soundclips page. Check back on Sunday for the next instalment.

November 7th 2004
Son Of Man - Free Album Download
James has decided to make Son Of Man available right here on the website as a "thank you" for your continued support. Now you have no excuse not to hear one of the most universally praised yet near impossible to find instrumental albums ever! We will be putting one track up online ever week so in 9 weeks time you will have the entire album. Also look out for a few other download suprises coming soon.
October 16th 2004
Crimes Of Virtuosity to be re-issued
We are pleased to announce that Lion Music will be re-releasing James Byrd's Atlantis Rising - Crimes Of Virtuosity within the next few months. Crimes Of Virtuosity saw Byrd pay tribute to his influences with a collection of original songs featuring Kendall Torrey (vocals), Randy Matthieson (bass) and Chase Culp - Drums. More information as it becomes available.
July 28th 2004
Byrd pays tribute to Jimi Hendrix
James' contribution to the second Lion Music Jimi Hendrix tribute album - The Spirit Lives On 2 - was released on July 22nd in Europe (some regional differences may occur on the date). Byrd contributes a superb solo to the track 'Burning Of The Midnight Lamp', this version is quite different in places to the original, but the solo is stunning, wait till you hear that wah wah pedal talk!
Please note that James is effectively doing a guest performance solo on this track collaborating with Lars Eric Mattson.
Byrd picks his ultimate G3 line-up
James was asked by a European based website to select two other guitarists to join himself on a imaginery G3 tour. To find out who Byrd chose click HERE.
Other News
James is still working on the new album and getting Byrd Guitars off the ground. He is also cursing the hot Seattle weather! More news as it comes in....

February 8th 2004
News & Site Update
James is currently still working on the new album, no release date is set as present. However, you will be able to hear some new Byrd material in June. This is month when Lion Music have THE SPIRIT LIVES ON - THE MUSIC OF JIMI HENDRIX REVISITED Vol II set for release. More details on Byrd's contribution coming soon.
The website has a bit more of a make-over, there are a few new sections and better all encompassing navigation.
December 21st 2003
Happy Holidays
James thanks all of you for your support in 2003 and wishes you all the best for 2004..
September 3rd 2003
Press comments on Byrd's performance on the Uli Jon Roth tribute album - Beyond Inspiration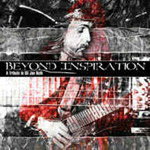 "Famed Roth devotee James Byrd puts in an MVP caliber performance on "Still So Many Lives Away", a great sing-along type rocker that is probably the most commercial sounding of all of Roth's tunes. Byrd's flashy, multi-tracked arpeggios are just bursting through the speakers, carrying a huge sound that is as much classical as it is great melodic hard rock".
"James Byrd kicks in hard with Still So Many Lives Away, joined by fellow Byrd vocalist Michael Flatters. This is one track I was very excited about as soon as the cd arrived, luckily the track does not disappoint in the slightest. Byrd's extremely pure tone is prevalent throughout with some tasty harmonisations of the original lines. James' guitar tone was big on the last Byrd release Anthem but here it is super thick yet with stunning clarity. The energy level is very high on this track, excellent backing by Ian Haughland (drums) and Weine Johansson (bass). Michael Flatter is his usual self - superb, further illustrating that he is one of the best new singers on the rock scene. But not only do we have excellent bass, drums, vocals and guitar but some extremely tasty keyboard orchestrations by Byrd. Uli's influence on Byrd is well known, yet James has not seen this as an excuse to ape Uli note for note. Instead Byrd serves up a revamped solo and guitar lines that whislt staying true to the original add a new sound to the track that updates it and brings an original element to the tune - just listen to that phrasing, vibrato and tone - glorious! This is the best example on the album of how to cover a track, by using the original and then revamping it to make it your own. Simply stunning!" - courtesy of http://www.virtuosityone.com
Post your comments on the track on the message board and check out the soundclip HERE.

July 16th 2003
Still So Many Lives Away - Uli Jon Roth Tribute Soundclip
There is a 1 minute clip of Byrd's version of 'Still So Many Lives Away' now available on the soundclips page.

July 15th 2003
New Anthem Review
A year after its release Anthem is still generating new reviews and positive press. The latest instalment comes courtesy of www.prog4you.com. To read the review head to our Anthem reviews page.

June 19th 2003
Uli Jon Roth Tribute Update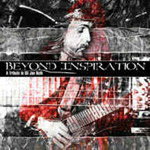 Beyond Inspiration is the title for Lion Music's Uli Jon Roth tribute album which features material from the legendary guitarist's time in the Scoprions and Electric Sun.. The album is set for release on July 24th, the catalogue number is LMC078.
As reported in previous news Byrd covers the track 'Still So Many Lives Away' with Michael Flatters on vocals. Other tracks covered on the album are:

Electric Sun / Sails of Charon / I'll be Loving You Always / Firewind / Dark Lady / Yellow Raven / Burning Wheel Turning / I'll be there / Indian Dawn / Pictured Life / Return / Polar Nights / Paganini Paraphrase .
May 16th 2003
Byrdland Trip Report
Well I have now been back a few days after travelling 4000+ miles home to discover that we are having the kind of weather the Pacific Northwest should have - rain and lots of it! Anyway the highlight of the trip was watching Byrd lay down orchestrations for what may well become the opening track on the new album. Seeing first hand the attention to detail (and the frustration of gear not always working as it should) that James puts into just the backing makes you even more appreciative of the end product and the hard labour that goes into creating Byrd's vision.

In addition I got to hear Byrd's version of the Uli Jon Roth track 'Still So Many Lives Away' for the forthcoming Lion Music tribute (see below). The track in its current state (un mastered) sounded stunning with Byrd's biggest and pure guitar tone to date. James has managed to make the track sound his own whilst still being true to the original. IMO it is better than the original version and Uli himself should be proud when he hears it. Michael Flatters provides vocals which again showcase his impeccable pipes.

I also got to play through James' rig and that was something truly special too. So thanks again to James and Kelly for a wonderful holiday. Keep checking back for more news on the new album.


April 24th 2003
Uli Jon Roth Tribute
James has finished work on his contribution to the Lion Music Uli Jon Roth tribute. James is contributing the track 'Still So Many Lives'. The tribute album will be released later this year.

March 25th 2003
Website Amalgamation Complete
The amalgamation between the UK Authorised website and this the main site is now complete, hope you like the new look and layout. If you find any errors please email the webmaster.

January 3rd 2003
News & Website Updates
James is busy with the process of upgrading Strange Partical Productions and composing music for the next studio album to be released later this year.
As a stop gap of sorts I have posted a bit of info on myself and some pictures of my trip to Byrdland in May 2002, to view the page click on the Webmaster link in the menu.
December 22nd 2002
A Special Christmas Message From Byrd
James has a special Christmas message and some significant news for all you fans - to read the message click HERE
December 6th 2002
New Album Press Release
Former Fifth Angel founder/lead guitarist and solo recording artist "Byrd" (James Byrd) has signed on for a third Byrd album with the European progressive rock/metal label Lion Music. The new album will be the 9th album of Byrd's career.

The album will again feature the vocals of Michael James Flatters (Byrd and Takara).

Other line-up details T.B.A.

Recording of the new album is slated to begin at the beginning of the new year. No release date had yet been announced.
Anthem Reviews Updated
Two more fresh reviews of Anthem have been added to the reviews archive.
Ask Byrd Updated
James answers more of your questions.

November 15th
Octoglomerate review added
Found a brief review of Octoglomerate from a back issue of 'Guitar World' magazine, it located in the Reviews section.

November 11th 2002
Anthem review added
This update sees melodicrock.com give their appraisel of 'Anthem'.

Ask Byrd
Our popular feature where you get to ask the questions has been updated with the latest submissions.
---