THE EARLY YEARS
James Byrd got his first real guitar when he was 9, but was not serious about the instrument until September 18th, 1970 (the day Jimi Hendrix died). Before this, James did not know who Hendrix was. James' parents had the evening news on that day, and it showed Hendrix playing the national anthem at Woodstock. In this, his story is apparently almost the same as Yngwie Malmsteen', but a lot of boys started wanting to play guitar on that day. His most important first influences were all blues players for the most part. He learned to really master blues guitar, and within 5 years he could play like an "Old-soul". After this, James began listening to other styles of players: Ritchie Blackmore, Uli Roth with Scorpions, Al DiMeola. The most important guitar influences from beginning to end were Hendrix, BB King, Johnny Winter, Frank Marino, Ritchie Blackmore, Uli Jon Roth/Scorpions, Al Di Meola, Jan Hammer (whom he thought was a guitarist at first, in fact, he thought HE was Jeff Beck, so he thought Beck was a lot better than he was), Django Reinhardt, Jan Akkerman, Paco DeLucia, Michael Schenker, and early Neil Schon.
THE YOUNG GUITAR TRAVELLER
At age 18, Byrd left home and went on the road with a heavy metal cover band playing colleges and some large sized venues and events. His band covered songs by only a few bands: UFO (performing the 'Strangers In The Night' material to the note), and the Scorpions from their Uli Roth period. About 90 percent of the cover material was from these two bands, and as a young kid Byrd had to learn these entire guitar solos note for note. His band won the "Northwest Battle Of The Bands" and free studio recording time, sadly this recording is long lost. The band did not have a single original song, so they went in and just played covers live. Byrd decided after a year in this band, he wanted out, but they tried to get him to stay, so the soundman (who also wanted to go) and Byrd took-off in the middle of the night.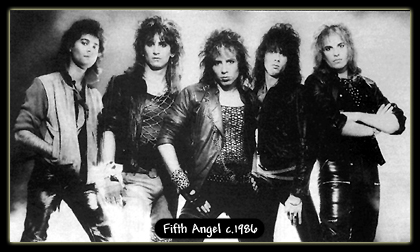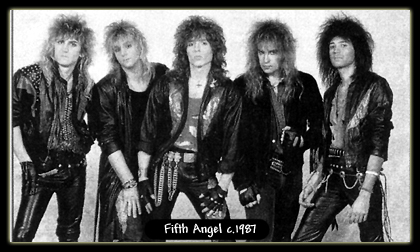 FIFTH ANGEL
In 1980, Byrd put together his first original band with original songs. In late 1981 he moved to L.A. and spent a year there playing with various bands at the usual places (Troubador, Perkins Palace etc.). In late 1982, Byrd had had enough of L.A. and wanted to move back to Seattle to work with two musicians he'd heard before he'd gone to L.A. One was drummer Ken Mary, the other was vocalist Ted Pilot. This was to become Fifth Angel. Queensrÿche were recent news in Seattle at this time, so his plan was to follow their business approach of assembling the players he wanted, and concentrating solely on writing, rehearsing, producing an album, and then looking for a recording contract. So that's exactly what he did. By late 1983, Fifth Angel was in Steve Lawson Productions with Terry Date recording "Fade to Flames", "Fifth Angel", "In the Fallout", and "Wings of Destiny". With this four song demo, about a hundred tapes went out to record companies on a list. Shrapnel Records was on the list, and Byrd felt that if nothing else, they'd sign him. Mike Varney was on the phone after one listen to sign the project. They got a pittance of an advance, but finished the album by cutting five more tracks. The reviews were stellar, and Byrd began getting endorsement offers and interviews. In 1987, Fifth Angel's reputation as an act got them management with 'Concrete Marketing and Management', and a seven-album deal on Epic/CBS. They re-released "Fifth Angel" in late 1987/early 1988. The seeds of destruction for Fifth Angel were sown as soon as large sums of money looked likely. Byrd was out of the band he'd created very shortly after the CBS agreement was signed. Details can be found in an interview with Rock Reunion.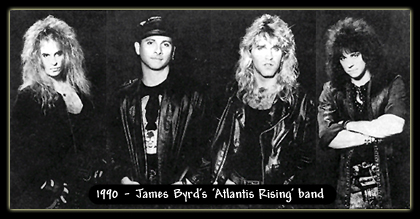 ATLANTIS RISING
In 1988/89, Byrd returned to Shrapnel Records under his own name and recorded 'James Byrd's Atlantis Rising'. A lawsuit between Shrapnel and their distributors left the album in a warehouse for an entire year with no distribution, but still was advertised in major press by Shrapnel. The album did extremely well in Japan and Europe, but by the time it was released in the U.S.A., everyone who'd wanted it couldn't find it, having a serious negative impact on its sales in the region.
OCTOGLOMERATE
In 1993, Byrd recorded his first instrumental album: "Octoglomerate". It was this album that brought Yngwie Malmsteen's introduction. Mike Varney played Malmsteen some of the tracks over the phone, and Malmsteen asked for the album. It was sent, and Mike Varney introduced the two guitarists. 1993 also saw an introduction to long-time hero and influence Frank Marino, and a close friendship developed between Byrd and Marino. Frank's comments about Byrd can be found in numerous interviews by Marino.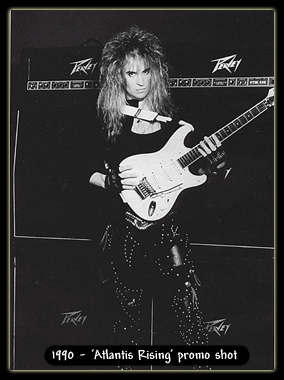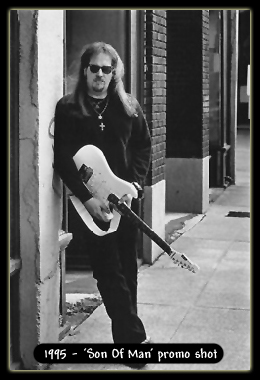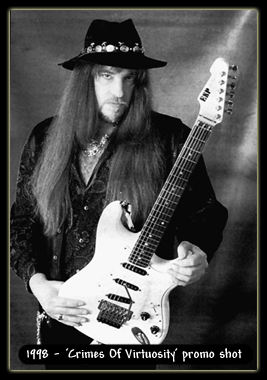 SON OF MAN
1995 brought the recording and release of another instrumental album: "James Byrd - Son of Man". Yngwie Malmsteen granted his only uncompensated endorsement of another guitarists work for "Son of Man", and the album appeared bearing an attachment on it's cover which read "James Byrd is the most exciting, European-sounding guitarist I've heard in years" - Yngwie Malmsteen. Several mentions in major guitar magazines by Malmsteen of Byrd as "A great guitarist" created additional press, culminating in inclusion of a feature article in Guitar (GFTPM) Magazine in 1996; "The Ten Best Guitarists You've Never Heard Of".

THE APOCALYPSE CHIME
1996 brought the release of "The James Byrd Group - The Apocalypse Chime" with vocalist Robert Mason [Lynch Mob / Cry Of Love]. This was to be Byrd's fulfilment of his last contract to Shrapnel Records.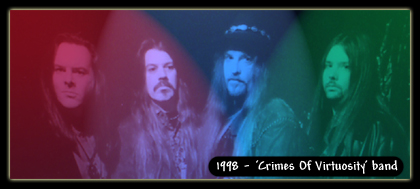 CRIMES OF VIRTUOSITY
In 1997, Byrd returned to the Atlantis Rising name with a new label -JVC Japan, Mascot Europe-and line up. The new album "James Byrd's Atlantis Rising-Crimes of Virtuosity" was released in 1998 in Japan and Europe. The album gained extremely strong reviews but sadly label promotion was lacking for this superb album. Many high profile magazine articles did follow e.g. Young Guitar, Burn etc. In 2000 James made "Crimes Of Virtuosity" available on mp3.com. Repackaged and remastered the album was a big success, featuring the Japanese 'C.O.V.' bonus track 'Shot Down In Flames', and the previously unreleased guitar/orchestra instrumental 'Byrd's Bolero' [whose recording predates Yngwie Malmsteen's Concerto by some 3 years], both were worthy additions from the Byrd vaults. Several tracks from the album scored highly on the mp3 charts, "Metatron 444" was #2 for 9 straight weeks and was still in the Top 20 after 6+ months!
BYRD GUITARS
James started his own 'Byrd Guitars' company in 1999, The Super Avianti is a bold and exciting new instrument entirely hand built by James, for more details see the Byrd Guitars homepage.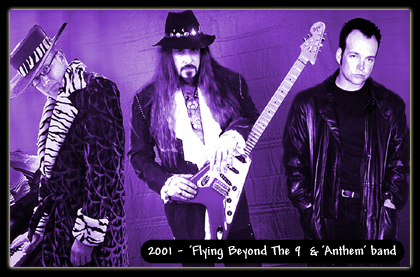 FLYING BEYOND THE 9
May 29th 2001 sees the release of 'Byrd - Flying Beyond The 9' on Lion Music. The album set new standard for Byrd's career in songwriting, production and guitar work. Press reviews are the nothing short of stunning (see reviews section).
JASON BECKER TRIBUTE
James contributes a solo to the final track of Lion Music's double cd tribute to Jason Becker. As well as Byrd's solo the track 'Outro Jam' features solos from Torben Enveldson, Patrick Rondat, Mike Chlasciak (Halford) Sami Asp and Lars Eric Mattsson. James solo is one of the most unique on the entire double cd with his tone and style being instantly recognisable.
ANTHEM
Summer 2002 saw the release of Byrd's strongest release to date - 'Byrd - Anthem'. This album saw the sound of 'Flying Beyond The 9' built upon with a return to the slightly guitar heavier approach of earlier albums. Vocals melodies were again an integral part of the sound and this side of the album shows Byrd's ability to pen timeless memorable melodies and hooks. Symphonic orchestrations were again heavily used and the production of the album is something to savour with Byrd's best guitarwork and tone to date.
ULI JON ROTH TRIBUTE
July 2003 saw Lion Music release 'Beyond Inspiration - A Tribute To Uli Jon Roth'. James contributed the track 'So Many Lives Away'. Many reviews of the album have called this track the highlight and who are we to argue?! This is the first track to hear the sonic possibilites of Byrd's revamped 'Strange Particle Productions' home studio. The guitar tone is especially strong on this track. Michael Flatters contributes vocals and did wonders working around Uli Roth's original unorthodox vocal approach.
JIMI HENDRIX TRIBUTE
2004 saw Byrd play a guest solo on the Lion Music Jimi Hendrix tribute album 'The Spirit Live On Vol 2'. Byrd contributes a solo to the track Burning Of The Midnight Lamp.
BYRD GUITARS WEBSITE LAUNCHED
April 2005 sees the launch of the Byrd Guitars website which sees the Super Avianti guitar marketed to the public.
CRIMES OF VIRTUOSITY 2005 REISSUE BONUS TRACKS EDITION RELEASED ON LION MUSIC
Originally released on JVC Victor Japan in 1998, and Mascot Records (Europe) in 1998, Byrd remastered Crimes of Virtuosity with two previously unreleased bonus tracks for his current label Lion Music.
"SECONDHAND SMOKE: A TRIBUTE TO FRANK MARINO
In 2006, Byrd recorded and produced the track "The World Anthem" for the all-star tribute to Frank Marino of Mahogany Rush fame.
---