---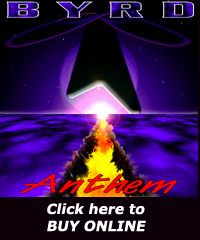 ANTHEM REVIEWS
|
ROCKNET.NL
|
METAL RULES.COM
|
HEAVY METAL RESOURCE
|
METAL COVEN
|
AOR-EUROPE.COM
|
ROCK REPORT.BE
|
CLASSIC ROCK REVISITIED.COM
|
|
THE SHRED ZONE.COM
|
LORDS OF METAL.NL
|
HEART OF THE ROCK
|
VAMPIRE MAGAZINE.COM
|
METAL REVIEWS.COM
|
MELODIC ROCK.COM
|
|
STRUTTER EZINE
|
DUTCH PROGRESSIVE ROCK PAGE
|
HARD ROXX
|
MAJESTIC MAGAZINE
|
DETRITUS EZINE
|
PROG4YOU.COM
|
GUITAR NOISE
|
---
ROCKNET.NL
2001's Byrd release "Flying Beyond The 9" was my introduction to the music of James Byrd, and his band; simply named Byrd. Besides Mr. Byrd himself, Brian Hutchinson (piano, drums, bass) and singer Michael Flatters (Takara) form this band.
I won't elaborate on the history of the band and James Byrd in specific, 'cause in the very near future a bio and interview will be available on RockNet as well, offering plenty of background info.
I'm not even going to try to categorize this music. You'll simply have to judge for yourself. But the amazing compositions and guitar work will appeal to many.The songs on "Anthem" are a little calmer then Byrd's previous release, but the balance between up-tempo and slower material is excellent.
The piano / keyboard-driven intro "Dealt By Darkness" is the perfect start of an album that will impress many. The bombastic orchestral arrangement will stir up an appetite, like a good intro should. The voice of Michael Flatters cuts through the broad sound, and if Mr. Flatters doesn't, the lead guitars of James Byrd do. The pompous following song "Omen" with the staccato piano, layered guitar licks and powerful choruses sounds like something the mighty Queen might have performed in the earlier part of their career. I wonder if Byrd himself will admit to the similarity. I'll ask him.
Of course the guitars are very prominently here, but thank goodness James Byrd (who wrote all these songs) apparently has a deep understanding of songwriting and arranging. At least he doesn't drown each and every song in mindless scale-racing. More than once the (guitar) harmonies remind me of Brian May, but the songwriting (except for "Omen" maybe) is, as far as I can judge knowing only the previous record, typical Byrd work.
"Messages From Home" is a somewhat denser song, with lots of licks and leads throughout. But pay some close attention to the rhythm guitar parts and assorted riffs going on in the background. "Some Day", the ballad of the album, is lyrically your typical ballad, but the chords, cleverly moving from 'flat' to 'sharp' (I hope I got the terms right on this one) gives the sad lyrics an underlying feeling of hope and optimism.
Lion Music call themselves a 'Progressive Metal Hard Rock Label' and if it's up to "All I Want" this term is certainly justified as far as I'm concerned. Rhythmically this song (the verses in particular) is a *very* entertaining track. And Michael Flatters proves how well he's at home in the higher regions of his vocal capacities.
Some weird-sounding backward guitars are the intro to "Killing Machine", another up-tempo tune, where Flatters sounds somewhat more powerful than on the majority of the material. I'd love to hear this man work live sometime. "Thank You" is lyrically a tribute to love and friendship. All this is poured into a mid-tempo track with a sing-along chorus. The lead guitar sound on this one is excellent!
A more melodic track; "The Price Of War" follows. The vocal line here is not your run-of-the-mill stuff. The sober piano riff adds to the atmosphere very nicely, and the strings and brass arrangements give this song a bit of a 'march' feel, especially when Brian Hutchison does his thing on the (snare).
Finally "Only Love" is the song on this record that, lyrically, impressed me most: 'Children see the light of truth within the bread they break. Never knowing what has come behind the hand they take.'
Conclusion: by all means a worthy successor to "Flying Beyond The 9". And one of the first albums in a while that I have done a track-by-track review on, simply because every track has it's specific qualities. Downsides? Yes, there are some: the somewhat short playing time might disappoint some (like me) and I can imagine that (generally) the lyrical content won't impress a lot of people. Then again, when there's so much going on musically, it would be cruel to draw away too much attention from the amazing musical craftsmanship of Byrd - the band.
There's quite a bit of James's earlier stuff available for your listening pleasure at mp3.com <http://www.mp3.com/jamesbyrd>
Eef Vink
METALRULES.COM
Following up his FLYING BEYOND THE 9 cd from 2001, James Byrd is back with his latest release called ANTHEM. Byrd had started working on songs for this album before the events of September 11th but in the aftermath of those events he was at a loss to continue. When he did he scrapped the work that he had done before and started over. The songs come from his feelings of personal anger, frustration and sadness at those events. One thing he wanted to stay away from was using 9/11 as a selling point for his CD. There is nothing in the packaging or the lyrics that directly links the album to that fateful day as Byrd felt that he did not want to cash in on that tragedy. It would be his inspiration.

Like FLYING BEYOND THE 9, ANTHEM is a CD rooted in 70s metal combined with copious amounts of orchestration. Byrd is again joined on this CD by vocalist Michael Flatters who takes up the challenge of Byrd's emotional ride after 9/11. Opening the CD is "Anthem- Delt By Darkness", a short highly orchestrated piece that speaks of the lives of those lost. Lyrics such as "my heart breaks" and "all their dreams scattered to the winds" illustrate how deeply Byrd was touched by the tragedy. One thing is for certain, James Byrd is still a masterful guitar player and proves it over and over again on this release by doing more than simply playing a break neck speed. His playing is tasteful and fits his compositions perfectly. On tracks such as "Killing Machine" and "Messages From Home" Byrd stretches gives into his more aggressive side while "Some Day" and "All I Want" are emotional windows into the mind of James Byrd and a mirror of how many people felt after such a loss of life.

James Byrd delivers another unique album of 70s inspired progressive, orchestral metal. As on his last release, Byrd uses the orchestration more as added colouring in the songs, not in a bombastic Rhapsodyesque way. There is no one else out there making music like this. It owes as much to Queen and Deep Purple as is does to the metal that Byrd first showcased in Fifth Angel.
Reviewed by Rick.
HEAVY METAL RESOURCE
Former Fifth Angel founder and guitarist James Byrd continues his amazing career with another album. The new album titled 'Anthem' is now released via Lion Music and is a progression of his direction on 'Flying beyond the 9'. The difference that I picked up on this release is that the album comes across as more of a production. The songs are big. The band is classified as a symphonic metal act and lives up to the name very well. Now it needs to be said that James Byrd is not making Rhapsody style music even though some find those comparisons. The bands are definitely different in their approach. The new album is also filled with a lot of emotion. When Byrd started to write his new album it was a pre 9/11 era. After the tragic events he totally shifted gears and offered a different presentation. Maybe this affected the emotional aspect of this release. Actually, I'd bet on it. The release is tight with good musicianship, writing, and vocals. Most of the tracks are actual very visual in their presentation. Take 'Anthem -Dealt by Darkness' as an example. It's a great opener that displays the aforementioned emotion as well as big production sound. This is consistent throughout the rest of the album. Some of my own favorites include the opener already mentioned, 'Omen', the melodic 'Some Day', 'All I want', the atmospheric 'The price of war', and the upbeat album closer 'Only Love'. It's hard to pick favorites however because the entire album is consistent and well written.

Overall James Byrd is really writing some prestigious sounding music. This album is similar than 'Flying beyond the 9' but is different at the same time. The songs are well crafted with a bit of classical thrown into big production. An emotionally driven album that makes a statement where James is as an artist. He has his own identity and this album really solidifies this notion. This one is definitely worthy of your attention!
METAL COVEN
James Byrd became a real legend when he formed the band Fifth Angel.The Fifth Angel debut album was a true classic in the epic melodic hardrock genre and in an instant James Byrd was one of the most famous guitarists from the 80's.Regretfully James left after the first Fifth Angel album and formed his own band James Byrd's Atlantis Rising.The self titled debut was a nice record but vocalist Freddy Krumins was definitely not as good as Ted Pilot (Fifth Angel vocalist).In the early nineties James released two highly aclaimed instrumental albums which were strongly influenced by the great Uli Jon Roth.In 1996 James released the album "The Apocalypse Chime" under the name of The James Byrd Group and two years later "Crimes of Virtuosity", which was maybe the most diverse album that James ever released.
In 2001 James made one of the best decisions of his life forming a band with Brian Hutchinson on keyboards and Michael Flatters on vocals.Under the name Byrd the album "Flying Beyond the 9" was released through Lion Music.Almost every editor loved this album and this was definitely no surprise because the melodic hardrock mixed with symphonic and neo-classical influences sounded fresh and inspired.Not only James' guitar escapades sounded better than ever but also Michael Flatters was one of the biggest new vocal talents of the last couple of years.Now we got the new album titled "Anthem" and again the melodic, symphonic and neo-classical elements are here but I personally think that the songs are even better than on "Flying Beyond the 9". My favorite songs are "Omen" , "All I Want", "Killing Machine" (maybe one of the best songs James ever wrote), "Thank You" (just listen to the guitar solo on this one!) and "The Price of War".

"Anthem" is another classic in the making and together with the Fifth Angel debut album this is probably the best album that James ever released.Very recommended!!!
Rating : 9.5/10
Review by Ronny Elst (2002)
AOR-EUROPE.COM
Guitarist James Byrd (ex. Fifth Angel) is back with yet another very bombastic release in the progressive/symphonic style of music. "Anthem" is the follow up album to last years success at Lionmusic (Flying Beyond The 9) and once again with Michael Flatters (Takara) behind the mic.
Byrd started writing and recording this record prior to September 11th 2001. However, when the attack happened he decided to start from scratch again. 'I just didn't have any further feeling of connection to the music I had started before September 11th and to have continued as though nothing had changed just wasn't going to be artistically honest', Byrd said earlier in the press release.

More power to him as honesty is probably the most important thing, when it comes to writing and performing music. This is not just a attempt to cash in on that tragedy though as the album hasn't anything to do with 9/11 lyricially or otherwise. Sadly the album hasn't that much to do with last years success either as the overall material is weaker than 'Flying Beyond The 9'. Then again, the sound is very much the same as 'FBT9' and Byrd's guitarwork is really something out of the ordinary. I really love his guitar tone here and the music is still very much 'Byrd' with Royal Hunt, Robbie Valentine, Styx, Stryper & Yngwie Malmsteen similarities in the mix. The song "Thank You" is nothing but magic though and one of the best songs he's ever done. The lyric with the simple yet effective 'Thank You For Being My Friend' really says a lot about the track. Check out the excellent guitar work and solo here, perfect bliss if ever. Other highlights would be "Messages From Home", the nice ballad "Some Day" and the uptempo rocker "Killing Machine". The main problem is not the un-catchy songs, it just feels like I've already heard many of them on his previous CD.
Rating: 7/10
Review by Urban "Wally" Wallstrom
ROCKREPORT.BE
If you liked "Flying Beyond The 9" last year, you will surely like this brand-new "Anthem" as well. Just like last year this album counts (only) 9 tracks, all written by the master guitarist James Byrd (ex-Fifth Angel) himself and once again the stuff could easily be described as neo-classical metal with some symphonic overtones. If you remember my review of "Flying Beyond The 9", maybe you still bear in mind that I was as impressed by vocalist Michael Flatters as I was by Mr. Byrd. Well, this Flatters - and keyboard player Hutchinson - are still very much part of the band and all three of them are playing very tight (once again). It's difficult to point out the best tracks, as all of them are of a good quality. Fans of Malmsteen must try out this band. There's no way back!
Rating 4/5
Review by CL.
CLASSIC ROCK REVISITED.COM
People that know me as a full-on metal head will be surprised to know that I'm a sucker for certain types of soaring harmonies and borderline sappy pop rock. I also love the epic sound of albums like Queen's A Night at the Opera. My point is that Byrd's Anthem has many of these elements and can now be added to my list.
However, I must make clear that while Anthem is full of beautiful harmonies and keyboard heavy melodic gems, Byrd is not a bubblegum band. The musicianship is flawless. James Byrd's guitar playing is brilliant and his solos will send shockwaves from your toes to your skull. He also throws in a lot of Brian May style layered guitar parts which sound fantastic. Micheal Flatters belts out some decent mid-range crooning. The arrangements are captivating and the songs in general are compelling, if a bit sappy. It's a rocking piece of work, but it's also quite slick and glossy, so I wouldn't necessarily have it blaring from my car stereo as I drive past a biker bar. I enjoyed it.
Rating: 3.5/5
By: Scott Alisoglu
SHREDZONE.COM
James Byrd is back again this year with another neoclassical guitar driven masterpiece. "Anthem" breaks new territory for its push forward in neo inspired music with heartfelt melodies and blazing guitars. We here at The Shred Zone take pride in our reviews and players we promote here. James Byrd is one of our favorite artists and a friend. James is featured all over our site, and we strongly support this musician's existence in the guitar world and will seek to push his music to everyone that visits our site. "Anthem" is on hell of a record guitar fans, and this review will touch upon every aspect of it. James covers all fronts with slow melodic ballads to in your face heavy metal riffing. Byrd is no stranger to intense song writing, he makes every note sound like his last. It only took thirty seconds into the first song before I knew this song was going to kick some major guns. So lets get on with it.

"Anthem - Death by Darkness" starts up the album with some beautiful keyboard orchestrations. This song is very melodic and each movement in the track progresses nicely. Check out James's classy lead starting at 01:48, its packed with emotion and soul. Byrd is one of the few neoclassical guitarists that can play with pure soul. He's like the Stevie Ray Vaughn of neoclassical playing. James plays straight from the heart and every note that pours out of his soul comes from that central location. Michael Flatters vocals are amazing as well. He has a superb vocal range, and matches his pitch to the feeling of the song.
In song two "Omen," James Byrd doesn't wait to enthrall you with his blazing guitar playing. The intro licks are super melodic and catchy. I also appreciated the complexity and detail of those lines. Listen closely for the killer arpeggio idea blended in right before the main verse starts. The main verse depends on the keyboards for the main backing. James using his guitar like an accent, bringing attention to certain areas. He does lay down some heavy riffing though, so don't worry. Another highlight, was the multipart vocal harmonies. These are present throughout the CD and add more dimension and layers to each piece. Check out James's lead 02:44, it breaks open with a short double harmony leading into some amazing WAH drowned lead phrasings. James doesn't rely on over saturated guitar tones. He keeps it pretty easy using a DOD Pre Amp 250 pedal for overdrive on leads, WAH, Marshall 1968 PLEXI 50 HEAD, and some plate reverbs for added layering. This would explain why Byrd's tone sounds very natural.

"Messages from Home" really packs a punch. This track is a testament to the style that is Mr. James Byrd. The main palm muted guitar riff defines and carries the song along. I'd have to say this is one song to add to your favorite mix cd. Byrd's chops are astounding. He doesn't go over board with speed, but embraces you with some of the most intense and soulful bends you'll ever have the chance to hear. 02:07 marks the beginning of the main lead section. James shreds up the fret board with his effortless arpeggio antics then moving into some tactfully selected phrasing. Lastly, please don't miss the bend and vibrato that James nails you with.
Track four "Some Day" takes the albums mood back down to a more deeper level, with a beautiful guitar performance accompanied by very deep and meaningful lyrics. This song is very inspirational. This song was dedicated to those who lost their loved ones on September 11th. I only wish that all those families could hear and have a copy of this song, I think it would really bring some words of encouragement and faith in a better world and humanity. Those events sickened the hearts of every American that day, and we'll endure on knowing that our place in the universe will not be disturbed by anyone. Hands down this is my absolute favorite song from "Anthem." The acoustic guitar kept the song flowing and the keyboards helped create and amazing atmosphere. Michael Flatters vocals were just perfect with every note that passed. I particularly fell in love with chorus lines, the lyrics are very cool and you'll be singing along with Michael every time. The orchestrations and arrangements were so well put together. Its almost like James has a magical formula for writing every note that he does. The main lead line just screamed with emotion and feel. If you were to buy the album for just one song, this one would be it.

"All I Want" is a little darker and mystical than the rest of the songs on the cd. The track opens with a very eerie keyboard line. Then Michael comes in with a more laid back vocal lines. Flatters again gives a flawless performance. Keep your ears peeled for the many multipart vocal harmonies throughout the track. They are unbelivable. I also enjoyed the main guitar line during the verse. It reminded me of Savatage meets neoclassical, if you can muster that. Byrd defiantly has a unique style that can't be matched by anyone in the world. He is true a connoisseur of guitar perfection and mastery. His leads throughout the song are executed with the highest of caliber and melody.

Song six "Killing Machine" brings in the heavier riffing that James has been known for his whole carrier. I enjoyed the intro keyboards, they set the stage and vibe of this number. I could almost predict what was coming next. James's evil riffing! Check out all the double guitar harmonies he uses to tie each part together. The chorus guitar part is very powerful and melodic at the same time. I really liked his choice of chord voicing. The guitar riff and vocal line walk hand in hand in perfect harmony. It happens a lot in music where vocal lines perfectly fit with guitar, but this song is the best example of this I've heard in a while. The main lead at 03:08 takes the song off in a little more faster direction with James super clean and speedy runs. Pay close attention to how clean they are. Damn he's got game! Lastly, really give the last minute of the song a hard listen. You'll hear some amazingly clean and concise arpeggios and bends. James tell us how do you do it?

James won't let you get a gasp for air when track seven "Thank You" starts. His playing is powerful, with driving guitar riffs and soaring leads. Those leads are defiantly heaven sent! I enjoyed the lyrical content of this one as well. James has a knack for written with 100% feeling and emotion. His words and guitar in my opinion express his true inner thoughts and feelings. Byrd is truly a musical aficionado. Its rare that you find an artist that knows exactly how to convey every thought he has in musical terms. James defiantly has a gift from a higher power and I know he's using it to it's full capacity. It really bothers me that superior music like this doesn't get radio air play and MTV music videos. I think the problem is that labels (exuding our friends at Lion Music <http://www.lionmusic.com/>) and critics don't think that normal people would like this music and associate with it. Byrd and other players get pegged as "musicians for musicians" in another words ONLY GUITAR PLAYERS ARE SUPPOSED TO APPRECIATE AND LISTEN TO THIS MUSIC. Bullsh*t!!! Music like this would be like a cultural experience for most people. In the days where guitar magazines and MTV promote god awful bands, and you know who they are, I'm not even going to mention who, because they aren't worth the web space! Instead of promoting slacker musicians they should be showcasing figures who are true masters. With that said, "Thank You" is another highlight track one this masterpiece of a album. Its very melodic and harmonious, and I know you'll love it as much as I did!

Track eight "The Price of War" sounds like the soundtrack for war, hence the name. Its very dark and the imagery is quite apparent throughout the song. I thought the lyrics were very intelligent and well put together. The song arrangements were great. Check out Brian Hutchinson's great drum performance throughout this one. The drums give the song a marching feel. I you'll get tons of mental images of missiles and bombs and soldiers marching when listening to this. Its a very powerful song and I think its target is a very obvious one. Check out the ultra short double guitar harmony at 04:15 -04:20. It may be short, but the note selection was priceless. This is a characteristic that James seems to carry well. I don't know how he selects these combination of notes that he does, but they are breathtaking.

Last but not least, "Only Love" brings this monstrous album to a close with a huge musical atmosphere. I totally dug the intro bass lines from Brian Hutchinson, and to tell the truth I think that was the first time I've ever heard anything like that before. Go Brian! Michael Flatters gave a top notch vocal performance as well. He has a great vocal range and it really fits the music to the T. Honestly I hope Michael stays on board with James for the long run. I think Michael has been the most talented vocalist he's worked with in his solo carrier and I hope Michael remains an integral part of the band. Speaking of Byrd give a listen to 02:50 for one of my personal favorite lead sections from the disc. James whips out a super happy upbeat lead that left me speechless. Again, how does he do it? What's his formula? James you blow this writers mind, my friend. Keep up the good work.

Looking back what else can I say other than, James wins The Shred Zone's award for best Neo-classical guitar release of 2002. I know the awards don't come out till next year, but I think its safe to say its going to take a whole lot of perfection to top James Byrd's "Anthem." Folks I don't know how Byrd does it year in and year out, but I'm always amazed by his valor as guitarist. I've come to set new standards of musical tastes, because of James. His playing is truly inspiring and uplifting. I know I keep saying this, but its rare to find unique guitar players that have their own groove. I've seen him compared to other neoclassical players like Yngwie, but I think James is on a different playing level. Sure he sounds very neoclassical when it comes down to it, but he entices you with so much soul, I couldn't begin to explain it to you. James's soulful shredding is what sets him apart. Maybe being a Jimi Hendrix fan plays a part in it, maybe not. James can you fill us in? (I smell a third interview coming on). laughs

So guitar fans, do you country and your music a service and pick up "Anthem" today at Lion Music or Guitar 9 . I know for a fact your going to pass out after listening to this masterpiece. Its nothing short of a perfect release from an amazing guitar hero. I give this album the highest praise an album can get for its soul, melodies and amazing performances. If this isn't enough to make you want to pick up this cd, than I think you may have to go get your head examined by a doctor!
LORDS OF METAL.NL
The epic opening tune "Anthem – Death By Darkness" immediately shows what this record's all about, and the style I described in my review of the predecessor "Flying Beyond The 9" is continued the same way on this new album. This automatically means that there are lots of Queen influences in the guitar sound and close-harmony singing, without getting annoying, but still James knows to create a distinctive personal sound, and therefore he has done a great job. Apart from the Queen influences, licks and tricks from guys like Yngwie J. Malmsteen and Uli Jon Roth are all around, but your reviewer doesn't consider that to be a nuisance either. There has been no changes in the band since "Flying Beyond The 9", so we could even speak of a "Flying Beyond The 9 – Part 2". Now James has an enormous back-catalogue, so as far as I'm concerned he doesn't have to come up with something completely new, besides, he has done that already in the past, and in a very daring way, I might add. So basically we can keep it simple. If you thought that "Flying Beyond The 9" was not your cup of tea, then you might as well leave 'Anthem' alone as well, but if you really liked it, than you should know what to do by now.
The Jester screams: 75/100
HEART OF THE ROCK
James Byrd is best remembered as the man who formed famed power metal heroes Fifth Angel in the 80's, splitting from the band before the national release of their debut album. Since then the axe hero has put together a string of projects, which include numerous instrumental albums, the short lived James Byrd Group (one album 1996's 'The Apocalypse Chime') and now his latest venture, 'Byrd' a new band altogether. Byrd has gained massive acclaim as a progressive rock mastermind, with Yngwie Malmsteen endorsing his work, most notably on Byrd's 1996 project 'Son Of Man' which featured a front cover note from Malmsteen. Quite the innovator, Byrd is heavily involved in guitar research, while sticking steadfastly to the classical rock style he helped pioneer. 'Anthem' adheres to the symphonic metal niche, combining orchestral passages a la Queen (especially those multi-tracked guitars), and solos that the aforementioned Mr Malmsteen would gladly sign his name to.

It would be easier for those fans at the heavier end of the spectrum to admire this effort. The 'at times' complex arrangements are an ideal fit for those used to belting out Finnish power metal or an Italian outfit like Rhapsody. Admittedly there's some gratitious playing going on from Mr Byrd, and for me, the best moments are when he's not going at 100mph. When the notes are soulful and carefully considered, they shine. A great example is the supreme 'Some Day', apart from the well worn songtitle. Starting out slow, and meaningful is 'All I Want', but builds up momentum in the style of Queensryche. The double kick drums and classico/symphonic nature of the track holds the interest. 'Thank You' features some cool guitar riffing, while 'Price Of War' has a regimented feel, not surprising considering the war theme.

In summary, it is not the sort of album for melodic rockers who are looking for an 'easy on the ear' set of tunes to wile away the hours. The musical style is well played and executed, and as mentioned, is suitable for those who phreak out on guitar excess a la Malmsteen. For this set of ears, I can appreciate the effort from the guys, despite the fact that the musical style doesn't move me in the way of some other acts. Good for it's genre though.
7/10 Review by George Thatcher
VAMPIRE MAGAZINE.COM
Fortunately, we also receive promos from labels other than the 'usual' brutal bands. Here's the next solo album of James Byrd whom I had never heard before. And although I can't make comparisons with his previous releases I'm more than sure that those albums will be just as recommendable as this new album. In short, James Byrd is one of those guitar player that can easily do some complex fast riffing or guitar licks. However, this guy doesn't write songs around his guitar playing like many of those guitar players tend to do. The songs on "Anthem" are real songs, excellently crafted with decent song structures. Musically, Byrd writes neoclassical symphonic hard rock. Yes, I would call it hard rock as it's not really heavy (although some solos are quite heavy ripping) and it's accessible for any one. At first listen the name Queen came to my mind because there's definitely a feel to this album that reminds of Queen. Furthermore, Brian May is certainly an influence for Byrd as one can hear in various guitar licks and solos. But rest assured that Byrd does not rip them off or anything, this album contains excellent tracks like "Omen", "Messages from home", "Some day" (about 11-9), "All I want" and "Only love". I should also mention the other 2 band members who've also laid down some excellent musicianship. Michael Flatters who has an excellent warm voice which easily adapts to each of the musical harmonies, and Brian Hutchison who is responsible for piano, drums and bass on this album. For true metal fans, this album might be too soft but people who appreciate very good song writing and great musicianship should not hesitate to check this out.
Review by Ron
METALREVIEWS.COM
James Byrd, ex-guitarist of Fifth Angel has landed with his new solo album, Anthem. Mr. Byrd was motivated by the events of 9/11 to create this album. However, he did not want to capitalize on 9/11 as a selling point for this album. There is nothing on the cover or otherwise directly referencing these events, and the lyrical references are very indirect. Anthem is a progressive rock album that pays homage to rock and metal sounds of the 70's while managing to sound new and fresh. Certainly Queen and maybe Deep Purple and Rainbow come to mind while listening to this CD. The keyboard layers are thick and always present. There is also a symphonic element to the songs, but not similar in style to bands such as Blind Guardian or Rhapsody. The symphonic elements are somehow secondary in nature; they add to the atmosphere of the songs, but do not transform them into majestic, epic songs as you will find with Rhapsody, Blind Guardian, and others. James Byrd delivers a plentiful amount of "virtuoso style" solos throughout the disc, although the guitar work in general is not nearly as flashy or dominant as was the case in Fifth Angel. You won't hear too many driving riffs as the songs depend mainly on the symphonic and keyboard elements as well as James Byrd's deep emotions rooted within each and every song. The album is very well balanced between mid temp and slow songs as you might expect from an album inspired by such a large loss of life. As I said, you won't hear any heavy or aggressive moments, but rather a more subdued and emotional album. Vocalist Michael Flatters rises up to the task of conveying Byrd's deep emotions through his singing. The production is above average, although the drumming could have been just a bit louder to create the perfect balance.

Although a very solid and consistent release, I feel that it could have used a slightly heavier guitar sound without sacrificing the emotional impact of the album. This album should appeal most to the prog rock / metal fans out there, although this album has quite a unique sound with its 70's influences mixed in.
MELODICROCK.COM
Anthem is guitar wiz James Byrd's new album, under his band moniker Byrd. It's the former Fifth Angel guitarist's second album under this name. Anthem is inspired and dedicated to the events of September 11, with the day itself and the days that would follow the subject of the album's lyrics. Byrd has a very distinct style, mixing guitar shred metal with symphonic pomp rock. Yngwie Malmsteen meets Queen with a strong progressive twist. Don't over estimate the album's heaviness. It's actually only a small step up from hard rock, with the orchestral and keyboard sequences adding texture and making it an overall 'lighter' experience than some guitar heavy albums. There are still plenty of guitar highlights, excellent and well thought out solos as well as some hard hitting riffs. Vocalist Michael Flatters has a Graham Bonnet quality to his voice - commanding, authorative, but less dominating than the aforementioned Bonnet. He certainly fits the music perfectly, with a rock voice teemed with the pompish flair needed.

Much like Jame's last album Flying Beyond The 9, this album will appeal to fans of guitar shredders like Yngwie Malmsteen and the pompish Uli Jon Roth for instance, and not to mention a more 'metal' Queen if there could be such a thing! Fans of the last album and James' very melodic guitar prowess should embrace this album with ease, although I think I prefer the last album by an edge.
Rating 79%
STRUTTER EZINE
James Byrd and co. have returned with a new CD entitled 'Anthem', a great album that fits nicely between ROYAL HUNT, RAINBOW, MALMSTEEN and ANDRE ANDERSEN, so basically what you get is classical melodic progressive metal with some AOR/Pomp touches here and there. The only pity is the short playing time which only borders around 40 minutes, but from start to finish it's quality music, so why complain! Highlights are "Sonic day" (great melodic rockballad), "All I want" (great melodic prog metal a la ARTENSION), "Thank you" (bombastic ballad a la ROYAL HUNT) and closing track "Only love" (uptempo melodic rocker like TEN meets MALMSTEEN). Also nice to mention is the Progressive/Pompish AOR tune "Omen" that somehow reminds me of AVIARY (remember them?). This CD is not only recommended to fans of BYRD, but to anyone who like classical melodic hardrock a la MALMSTEEN, RAINBOW, ROYAL HUNT…
Rating: 8.5/10 (Review by Gabor Kleinbloesem)
DUTCH PROGRESSIVE ROCK PAGE
This marks James Byrd's second album with his new group - BYRD - and he is joined again by vocalist Michael Flatters and multi-instrumentalist Brian Hutchison. I am not terribly familiar with the progressive/symphonic metal label, but it certainly suits the subject matter of this particular album, which focuses on the aftermath of the 11th of September tragedy. The title of the album speaks volumes - it contains a number of anthemic tracks - some of which work better than others, which are bound by a common theme, and associated dark tone (although there are moments of optimism, too). The album's packaging makes almost no mention at all of the subject matter (apart from the dedication of 'Some Day' to those who lost loved ones), and certainly does not use it as a selling point.
'Anthem' starts with simple piano and vocal before a timpani roll ushers in some basic keyboard chords. This is the most symphonic track on the album, and includes only two short segments of Byrd's guitar work towards the end, hinting at the Malmsteen-like mastery of his instrument. Although it sets the tone for the album, this track is just a bit too over-the-top for my taste, and reminds me most of the wedding scene in Queen's Flash Gordon soundtrack. It does sound very much like an anthem, but is a bit cloying to me. In fairness, though it does give an accurate representation of the initial effect of 11/9, as portrayed by the media - i.e. a nation brought together by tragedy, and associated outpourings of grief and solidarity.

The second track, 'Omen' gives a better indication of the style of the album. Starting with a powerful guitar introduction, the song settles into a verse backed by a repetitive keyboard line which is punctuated regularly by a combined attack of drums and guitar, and a choral backing vocal which owes more than just a nod to Queen. The guitar solo halfway through is more melodic than I would normally expect from lesser guitar 'virtuosi' - Byrd appreciates that soloing does not have to be about how many notes you can fit into a bar.

'Messages From Home' kicks off with a progressively more frantic guitar passage, before settling into an up-tempo song which is something like a heavier version of IQ. Lyrically, the song is open to interpretation - the suggestion is that of the US citizens seeking retaliation (in Afghanistan), but it could also be applied to the feelings of those who made the strikes on the 11th, which just shows that we're all only human.

Here comes the ballad... Acoustic guitars and string synths provide the backing for the first verse of 'Some Day', before the full band sound joins in for the chorus. Again, we're back in anthemic territory here - you can almost picture the candles waving to and fro in the arena audience - very much AOR at its best. Like the first track, this one ends up a little too sweet for my taste - probably as a by-product of the subject matter in this case.

'All I Want' starts with a simple piano melody, building into a disjointed rhythm backed by guitar chords and drum rolls. The chorus is a fairly straightforward rocker, which is introduced by a short Queen-like choral segment each time. There are a couple of times throughout this track where the guitar solos could have been given a little more space to develop - the solo starting at 03:10 sounds like it could have lasted at least another 20 seconds, but is cut short by the next verse.
'Killing Machine' is a little uninspiring in the verse, and the chorus is a little too cheerful to do justice to the line "You know that you're just a Killing Machine". However, there is much more of Byrd's guitar solo featured in the second half of the song, and we get to hear what he can do, with the guitar providing a good counterpoint to Flatters' vocal lines.

A heavy guitar/bass riff forms the backbone of 'Thank You', which has another anthemic/symphonic chorus, and a rather awkward ending. It also features (twice) the crime against poetry which is "I was broken like a potter's vase, I soon felt the demon's mace" - a rhyme which only works in American English, and just makes me laugh whenever I hear it.

'The Price of War' starts off quite weakly, with a very basic vocal and piano verse followed by the chorus, then returning to the basic verse. Then the military drumbeat comes in and turns the song completely around - it suddenly becomes the strongest track on the album. It is reminiscent of the images conjured up by the likes of Sassoon and Owen during WW1, brought up-to-date. It also features a soaring guitar solo and a sense of the bluster (and futility) of war.
An eastern feel introduces 'Only Love', which rocks along in a dark cloud until the chorus steps in with its 'love conquers all' motif. Finishing the album on a positive note - a nice thought, if a little too 'Disney'.

Technically, this album is pretty faultless - all three musicians work well together to create a tight, powerful sound. The keyboards are mostly used for synth backing, so are fairly sparse, but since Brian Hutchison also plays bass and drums, it would be harsh to expect Wakeman-like keyboard fills. Artistically, some of the lyrics leave a bit to be desired - how many rock singers would feel comfortable singing "I know that I'm their tool"? Also, I find some of the AOR choruses too sickly-sweet for my taste.
Fans of Yngwie Malmsteen, Steve Vai and the like would not be disappointed by this album, as it includes some excellent guitar work, without being 'show-offish', whilst Queen fans looking for something heavier would appreciate the layered guitars and choral backings in several songs. Despite the couple of lapses into predictability already mentioned, there are some good, strong songs here which deal with a difficult subject from a personal perspective. I enjoyed it a lot more than I thought I would.
Conclusion: 7 out of 10.
Jonathan Bisset
HARD ROXX
Follow up to last year's excellent but rather oddly titled 'Flying Beyond The 9' opus, 'Anthem' sees former Fifth Angel guitar Zeus James Byrd continue to further explore the neo-classical hard rock territory which has always featured heavily in his playing. Not as steely edged as bands like Ring Of Fire or Lost Tribe, melody wise 'Anthem' is more rounded hard rock than driving metal, albeit with some decidedly Malmsteenesque guitar licks - kinda like an updated early Rainbow with just a touch more theatrics a la Royal Hunt or Artension. Moody, atmospheric, and filled with plenty of ambient light and shade, the three piece have crafted an album's worth of sophisticated, yet instantly accessible songs. Vocalist Michael Flatters continues to go from strength to strength, thoughtful arrangements bringing out a great performance - especially on some of the multilayered harmonies. James Byrd also shines, his inventive licks adding the extra dynamics to tracks such as the powerful 'All I Want' or smouldering 'Some Day'. Classy.
Dave Cockett
MAJESTIC MAGAZINE
If you dug James Byrd's previous album, you can buy this one unheard. On Anthem James uses the same ingredients to serve up a different dish. The album sounds a bit more mature in the sense that the shredding just for the sake of it has gone. Instead the tracks are more melodic and the songs seem to have been written around the vocals this time.
If you're not familiar with Byrd's debut album, but you're into European Hardrock in the vein of (70's era) Rainbow and Yngwie Malmsteen you'll probably love this album. My favorite track is the lovely ballad Some Day.
3/5

DETRITUS EZINE
With the exception of some older Fifth Angel I had heard many years ago, which I liked, I had not heard any of James's solo stuff...Well... Let's get one thing straight, James Byrd is a damn good guitarist... The guy can play and was brought up on old school guyslike Blackmore, Uli Roth, Hendrix, and Al DiMeola. He received his first national recognition with the above mentioned Fifth Angel from Seattle, which also included Ken Mary and Ted Pilot. He has a great biography on his Web site so check it out. The guy even builds his own guitars which I can totally appreciate as I have built a couple
myself.

As for this release, his seventh under his own name, at first listen I said, "He's just another Yngwie clone." But, as I gave it some more spins I started to hear all of the various influences previously mentioned. James draws on a wide variety of styles to arrive at his own. He gets a great guitar tone through his Marshall 1968 50 watt head. His equipment is listed on his site (I love when musicians do that as I am always interested in what people are playing and what they use to record). Most noticeable about this CD is the song structures which are very symphony orientated, lots of building up and peaking, then dropping back down to start the crescendo over again. This style of writing will appeal to fans of guitar oriented Metal, while those of you into more straightahead, verse/chorus/verse/chorus type of songwriting may find this hard to follow as it needs its due attention given.

The production of the guitar and vocals sounds great, but the bass and drums seem to be more in the background and lacking depth. This makes for an uneven mix and takes away from the overall dynamics. The melodies of Michael Flatters are very well done. He has a very pleasant sounding voice, powerful and soulful at the same time. He compliments the music very well.

In summary: Overall this is a good guitar orientated release and deserves a better listen to fully digest. If you are into guitar driven, Symphonic Metal, check this one out. Song structures might notappeal to those who are into more straightahead metal.
PROG4YOU.COM
Here we have a new album from James Byrd. Released in the Summer of 2002, "Anthem" is a deep, insightful exploration of the effects of September 11th.
James, with bandmates Michael Flatters and Brian Huchtison, deliver emotional performances, well-matched to the serious subject matter of the lyrics.
The compositions are complex and multilayered with generous doses of blistering guitar work, soaring keyboards and passionate vocals. The writing style on this album blends classical influences with hard rock and metal. The use of varied dynamics (quiet passages and loud passages) keep the songs interesting from start to finish.
Vocalist Michael Flatters turns in a strong performance on "Anthem". He's adept at using his voice to convey the emotion of the lyrics. He has a good balance of technique and feel. I find myself trying to sing along with him—an excellent gauge of how much I like a vocalist.
Brian Huchtison fills out James' compositions well with his keyboard, drum and bass work. Brian's parts mesh well with James' rhythm and solo guitar.
James' playing is top-notch throughout. He is often compared to Yngwie Malmsteen and Uli Roth. The comparison is appropriate, but I feel James has his own unique 'voice' on guitar. His neo-classical lead playing on Anthem is highly melodic. I also appreciate his willingness to step back and play for the song. Instead of lead guitar constantly dominating the music, it is integrated into the compositions. This is the mark of a confident, mature guitarist.
I like the dramatic, symphonic feel of "Anthem". The mix is clear and punchy. The instruments and vocals are well recorded. The songs "All I Want" and "Killing Machine" are especially good, both in their composition and their performance. In fact, "Anthem" is filled is memorable hooks.
A few minor quibbles: I don't like the reverb used on the vocals; there is too much of it, and the reverb sound isn't pleasant to my ears. The reverb has the effect of distancing me emotionally from vocalist Michael Flatters' performance.
I would like to hear James' rhythm guitar a bit louder. He has some cool, chunky rhythm guitar going on. James' rhythm guitar is mixed a little lower than the keyboard in many places on the album, and eq'd a bit thin. Turn it up, man!
My minor criticisms aside, "Anthem" is a very good album. The songs are strong; the performances are passionate. The lyrics are heartfelt and mirror the emotions of many after the tragedy of September 11th. Fans of neo-classical and progressive music will love James Bryd's "Anthem".
8 out of 10 Keyboards.
Review by: Jeffrey Ryan Smoots

GUITAR NOISE
Byrd's latest offering is another must for anyone who loves a great guitar in the midst of fabulously well-written symphonic metal. With Michael Flatters on vocals and Brian Hutchison on piano, drums and bass this trio rides a beautiful storm of powerful, emotional music. Obviously, to James Byrd, making a great album and stopping there is not an option. Although Anthem is in the same direction, clearly the same overall sound, there is a definite progression overall (compared to Flying Beyond The 9). Never overbearing, either on the guitars or anywhere else, this album's sleek production brings out a big sound while allowing every instrument to shine in its proper place.
This is another one you should get for your record collection.
A-J Charron - 2003-11-12
---